At Natalie Roberson Photography, we can offer a few tips for successful holiday photography.
Decide if you want your photos taken inside or outside.
Try to coordinate your family's outfits but don't try too hard to match. For example, everyone's outfit can have a pop of red color to be festive but don't wear the exact same thing.
Another option is to show your silly side by wearing "ugly" holiday sweaters or reindeer antlers.
Put everyone on the same level, by sitting on a blanket or putting everyone on stools.
A good option is to capture a holiday tradition like making cookies or decorating a tree is always a great option.
Don't forget to include your family pet!
How do you Take Good kid's Pictures?
Children can be unpredictable when it comes to family photography. Here are a few simple ways to keep them happy while getting some fantastic photos.
Give squirmy kids a job to do like holding an ornament or squeezing a quarter tight. This settles their hands and keeps their focus on that activity.
Make them laugh by singing Christmas songs but getting the lyrics wrong
Try not to have them pose. Children are naturally comfortable with themselves so they are best photographed when they are smiling, laughing, or playing in their natural environment.
When all else fails, bribe them with candy!
How do I Get my Toddler to Sit Still for Pictures?
Getting toddlers to sit still for family photography can be challenging. The photographers at Natalie Roberson Photography recommend these tips for toddlers. First, give them a special place to sit such as a chair, stool or rocking horse. Also, to capture their natural smile, ask them a silly question or put on a pair of bunny ears or bells on your wrist, and then ask how that got there. You can also have them imitate you while you sit or stand or lay down to get a variety of poses. Finally, having Smarties candy on hand usually does the trick of making them smile and not making a mess.
How Can I Improve My Indoor Photography?
First, lighting is key for indoor family photography. Have your subject face the window instead of having them sit in front of the light source which can wash them out. Also, another trick to lighting is bouncing the flash away from your subject to a reflective object such as a wall, ceiling, or mirror. If you are using a real camera rather than a phone, increase the ISO setting and switch to AV mode and this will help your camera automatically adjust to the light. For better holiday photography, we recommend taking a softer image with more natural light as opposed to a harsh shadowy image taken with flash.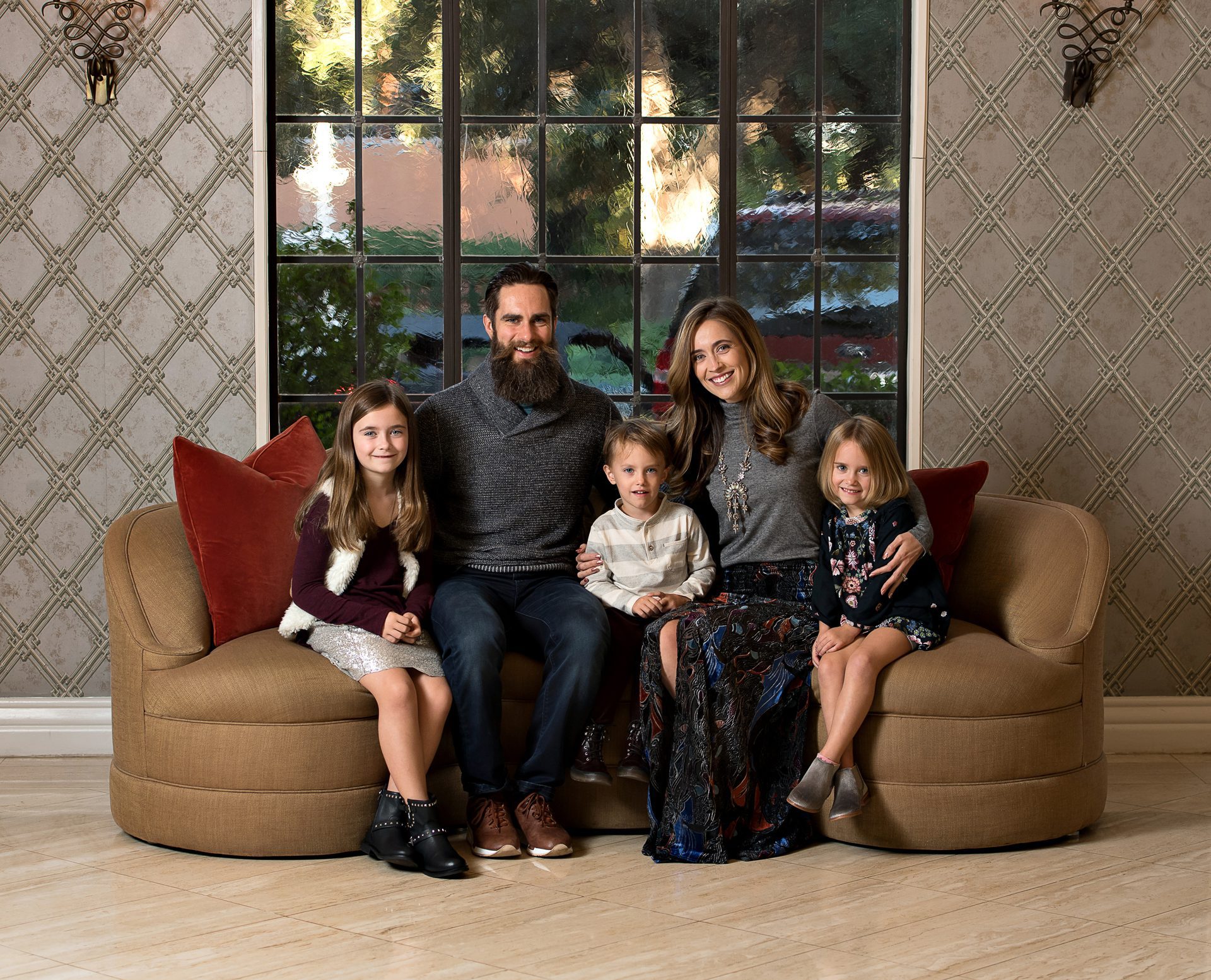 How do you Take Good Pictures in Front of a Christmas Tree?
Including a Christmas tree is great for holiday photography but there are a few do's and don'ts. Natalie Roberson Photography provides the following advice:
Don't use flash because the lighting will be too harsh. Be sure to leave your tree lights on for the picture.
Use a tripod if you have one. This will prevent blurry images and you will have 20-30 seconds to get everyone in place.
Get some close-up shots of the branches and lights too.
Blur the background behind the tree so that it's out of focus. This will focus all attention on the tree.
Pose your family in front of the tree or get a great action shot of them trimming the tree.
How do People Take Good Holiday Photos for Instagram?
There are a few tricks that Natalie Roberson Photography has for taking holiday photography that is Instagram-worthy.
Find the right angle. Use a chair to take a photo of your holiday feast or your family from above.
Take lots of pictures! It's better to have many images of the same thing and then choose your favorite for social media
Take a horizontal picture. It makes cropping easier later.
Take your photos during the "Magic Hour" for soft natural lighting. The magic hour includes the "golden hour" shortly after sunrise or right before sunset and also the "blue hour" at twilight when the sun has just set.
Create a unique hashtag. Instead of common ones like #Christmas, use one specific to your family such as #SmithsChristmas2020. Then, all your family and friends can easily find your family photography.
How can Natalie Roberson Photography help with Family Photography Sessions?
This is a great time of year to start thinking about your holiday family photos. Natalie Roberson Photography offers family photography services that will be perfect for holiday cards and gifts. We have a variety of venues to choose from including our 5,000 square foot studio or many local outdoor venues. We also offer the Magical Santa Experience and the Magical Snowman Experience for family portraits. We have many years of experience and many very satisfied customers. Don't wait to start planning your holiday photography session – Contact Natalie Roberson Photography today!